During international conferences with multiple languages, it is important that all attendees understand what is being said.  Conference interpretation equipment enables interpreters to render the message from the floor language into another language as quickly as possible (simultaneously).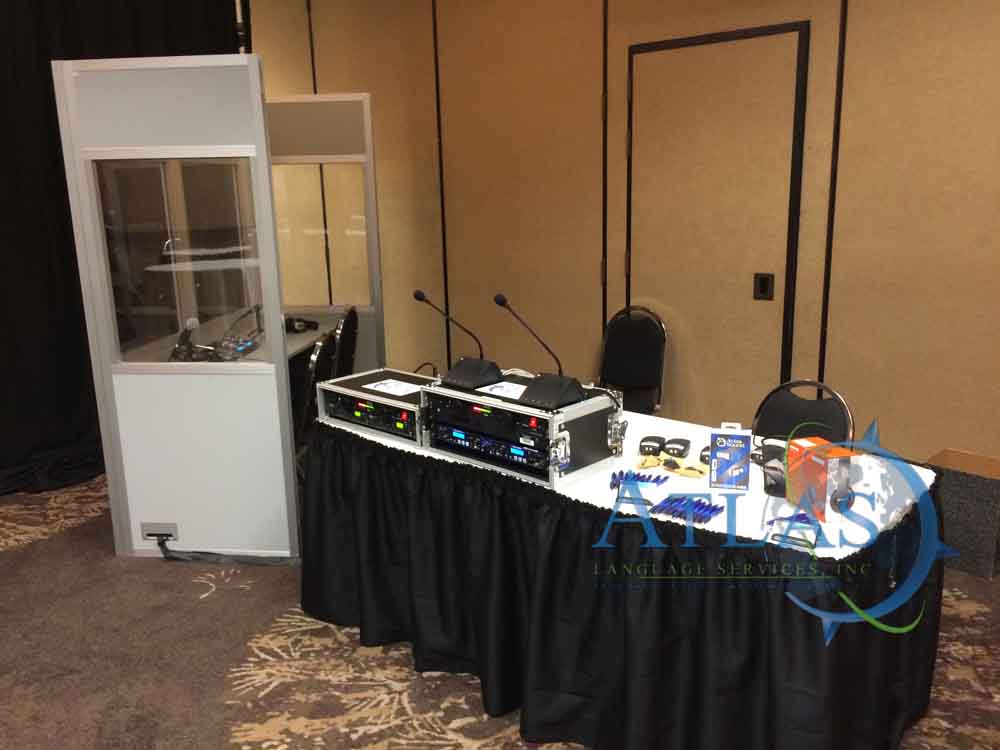 International events requiring multiple languages also require a wide range of equipment to interpret between two languages and reach their target audience with the least amount of hassle.  Typically, interpreters will reside in a soundproof interpretation booth approximately 6' (1.83m) x 6' (1.83m).  Once there, the interpreters receive a live audio or video feed of the speaker and stage, and the interpreter speaks into a microphone that is then broadcasted to wireless transmitters or receivers that are distributed to the audience before the start of the event or conference.
There are several different methods of distributing the interpretation to the audience.  Here in the United States, the two most common choices of interpretation equipment are radio frequency (RF) which is FM-based, and Infrared (IR).   We will briefly identify some of the benefits and drawbacks of each technology.
IR boasts the following benefits:
Secure communications (due to line of sight – LOS requirements).  LOS limitations allow these units to be used in highly secure/confidential events, as the risk of interception is virtually impossible.
No chance of radio interference from other sources, including wireless microphones, etc.
Superior audio quality.
No interference from lighting systems.
Up to 32 separate channels can be transmitted simultaneously.
The drawbacks of IR include:
Inability to transmit between solid objects.
Difficult to set up and position for optimal operation as well as sound distribution.
Indoor operation only.
Labor intensive.
Not portable.
Alternatively, RF radio transmitters have the following benefits:
Ease of setup and flexibility in various environments.
Ability to transmit through objects (no line of sight issues).
Can be used indoors or outdoors.

RF units help to ensure that public venues meet ADA (Americans with Disabilities Act) or National Persons with Disabilities Act in Canada.
Transmitters can be placed virtually anywhere.
Portable units can be used for:

Factories
Sightseeing Tours
Tradeshows
Employee meetings
Museums
And FM has the following drawbacks:
Insecure communications.
Chance of radio interference from outside sources (depending upon frequency).
Limited simultaneous transmission in North America:

72 MHz can transmit up to 6 languages (including the floor).
216 MHz can transmit up to 3 languages (including the floor).
Limited range:

72 MHz broadcast range is up to 1,500 feet (457.2m).
216 MHz broadcast range is up to 3,000 feet (914.4m).
Whatever you do, don't be afraid to ask questions of your language interpretation partner.  Find out as much about them as you can.  Feel free to ask how long they have been in the conference interpretation profession and how many conferences they have interpreted during.  If they have experience in the city, state, or even country, you are working in.  Trust us. It makes a HUGE difference.  When working in China, for example, it is best to use IR technology as the radio frequencies are not regulated as they are in North America.  Therefore, in our opinion, RF in China is a BAD idea, and actually RF in China is much more expensive than IR!  Little tips and insights into particular regions will make all the difference during your event.
Here are some other basic tips:
Check references.
Provide as much information about the event as you can.

Is the event highly confidential or open to the public?
What are the hours of the event where interpretation will be needed?
Will interpretation be needed during break-out sessions or during only the general session?
Can you provide preparation material or copies of the speaker's scripts prior to the event?

Please remember we are acting as the voice of the speakers. We need to know what the topic is as well as how technical the material is.  The more research and preparation an interpreter can do prior to the event, the smoother and more professional the interpretation will come across to the audience.
Will there be a question and answer session (Q&A)?
How many languages will you require?
Will the interpretation be recorded?
When can our team install and strike the equipment?
When planning a multi-language conference event where simultaneous interpreters or translators are needed, your language service provider should ask numerous questions in order to determine your needs.  The more information you can provide to your language partner, the more successful your event will be.
Atlas Language Services has 20+ years of experience in the conference interpretation field, both small and large.  If you are in need of simultaneous interpreters, translators, equipment, or project management support, please do not hesitate to give us a call!
---
Atlas Language Services, Inc. is a Chicago-based Language Service Provider specializing in language interpretation (spoken), translation (written), globalization, localization and conference interpretation, and simultaneous conference equipment rentals and sales.
With over 20 years of industry experience in the legal, medical, corporate, pharmaceutical, engineering, and conference interpretation fields as well as expertise in written translations for advertising, marketing, promotions, sales, human resources, publications, and technical research material, you can be assured that Atlas can handle all your language needs, not just domestically but worldwide.
Atlas Language Services, Inc. is an A+ rated business by the Better Business Bureau as well as a corporate member of:  American Translators Association; Association of Language Companies; Crystal Lake Chamber of Commerce; Chicagoland Chamber of Commerce; Midwest Association of Translators & Interpreters; Meeting Planners International; and the Illinois Paralegal Association.
Atlas Language Services, Inc. can be reached on our contact us page.
Kevin McQuire is the President/CEO.