Our Translation Equipment
With Atlas Language Services, you can be assured that we utilize state-of-the-art wireless interpretation systems. Our equipment includes items such as Radio Frequency (RF) and Infrared (IR) Systems. However, since technology constantly changes, we continually research new and emerging technology to enhance our client's experience. Being a direct partner with various manufacturers allows us to provide the most advanced interpretation systems in the world yet provide significant cost savings for you and your event.

Radio Frequency (RF)
RF Systems provide the simplest and least expensive solution to language interpretation and are used in applications that require less than eight (8) languages and security are of little concern. RF systems operate on low FM frequencies in the 72 – 79 MHz range and are regulated by the FCC. This frequency range is designated for auditory assistance and is restricted to hearing and language interpretation use only. The frequencies are lower than most radios are able to obtain, however, the signal can be received within a range of 1,000 feet of the transmitters and can penetrate most walls.

Infrared Frequency (IR)
If security is of concern, Infrared systems are the ultimate in sound clarity and security. Infrared systems use line-of-sight, meaning if the receivers are not in view of an IR Emitter then they will not be able to receive a signal. IR systems provide rich sound quality and can be used in almost any application, including outdoors. Infrared systems are excellent in situations that require more than eight (8) languages and/or security is of great concern.
Interpretation Booths
Fully Encapsulated
The fully encapsulated booths are ISO compliant soundproof interpretation booths. These are excellent for situations where sound bleed in close quarters is a concern. Each booth allows two interpreters to sit and work comfortably for optimum monitoring and interpreting.
Tabletop Booth
Our tabletop booths were created to provide a sound reduction booth that is portable, lightweight and cost effective. Each tabletop booth sits nicely on a standard 6′ banquet table. Although the tabletop booths do not eliminate sound, they do dramatically reduce the sound emitted and provide a nice clear sound for the attendees.
Interpretation Equipment

Interpreter Control Console
Never discount the importance of a good quality interpretation console! It is one of the most important tools when it comes to interpretation. At Atlas, we typically support and prefer the Williams Sound® IC-2 console for our US-based events. This console works well with both RF and IR technology. It is well designed and thought out, simple to use, rugged and dependable. Used properly it is simple for the interpreters to master very quickly yet still allowing the interpreter full control over their volume, bass and treble settings. It is a powerhouse.
---

Stationery RF Transmitters
The Williams Sound T45 is our RF workhorse. With cutting edge technology, this transmitter offers multiple digital audio inputs. With 3 powerful microprocessors, its technology and performance are unparalleled. With a range of up to 1,000ft² (304.8m²). This RF FM-based system can accommodate up to 8 languages simultaneously.
---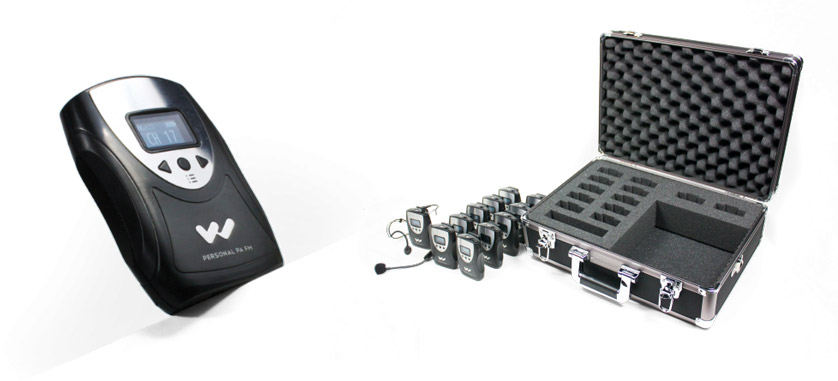 Portable Listening Systems / Tour Guide Systems
When being mobile is required, have no fear we have the solution! By utilizing Portable Listening Systems/Tour Guide Systems you and your audience will be able to hear every word while maintaining your mobility. These compact belt or lanyard based transmitters allow the presenter to have full movement or to move from room to room without the limitations of a full stationary interpretation system. The transmitters are very simple to use and have a range of about 100' (30.5m²). The audience utilizes a receiver with earbuds or headphones to hear the presenter. These units are every simple to use and meaning that your presenter, interpreter or attendees will not be distracted trying to figure out how to operate them so they can focus on what is truly important, your presentation/tour.
---

Digital Discussion Systems – DDS 5900
We carry and support the Shure® DDS 5900 Digital Discussion System. This system offers an elegant design with a plug-and-play simple installation. This single Central Control system allows for up to 60 conference microphones to be daisy chained together with shielded CAT 5 cabling and a single CCU. However, the capacity of this system allows for up to 250 microphones with the correct accessories and support. These units also allow for up to two (2) channels of interpretation.
---
Sound Systems / Loudspeakers
Atlas carries QSC sound systems for all their PA needs. With exceptional sound clarity and extensive digital signal processing (DSP), the K series by QSC is an outstanding choice. They are not only lightweight but also very durable. Made only from premium materials and advanced technology

K12
12" Woofer, 75° conical DMT coverage, Maximum SPL 131 dB peak, 1,000-watt! These K12 loudspeakers are exceptional and can be utilized in virtually every setting from big to small.
---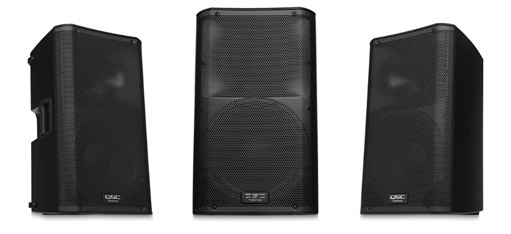 K10
10" Woofer; 1.75" diaphragm compression driver with a 1,000-watt Class D power module! These units are great for midsize venues.
---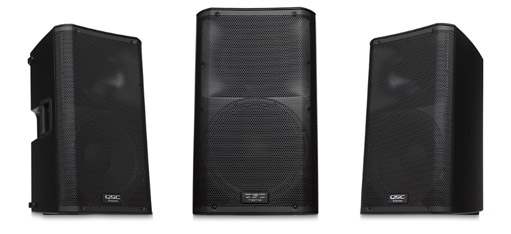 K08
8" Woofer; 1.75" diaphragm compression driver with a 1,000-watt Class D power module! These units are great for small to midsize venues.
---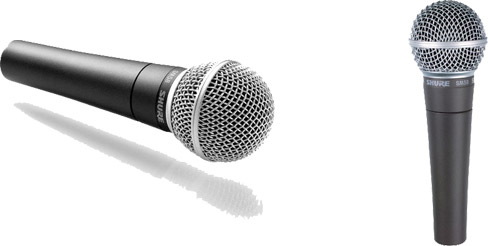 Microphones – Wired
Atlas uses Shure microphones and we have numerous microphones to choose from but for stationary interpretation, we utilize the SM 58. This rugged, dependable microphone has clear sound. It was designed for a professional vocalist in any live performance.
---

Microphones – Wireless
The Beta 58A dynamic vocal microphone is our go-to source for live wireless microphones. This precision-engineered microphone is rack mounted with an analog transmission. The super cardioid pattern isolates it from our sound sources minimizing any frequency issues.