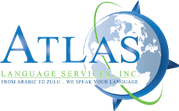 Our Clients
Pope Francis

Gary "Vee" Vaynerchuk

Resy & Empathy Wines Cofounder /Entrepreneur

Alan Murray

Fortune Editor in Chief

Larry Page

Google
Testimonials
"Your interpreters were professional, courteous and flexible. We encountered several challenges at each meeting and you went above and beyond to help solve those challenges in real-time."

-David, McDonald's Corporation

"Due to the nature of our forum, the interpreters' job was very intense at times, and Atlas' team had to make several adaptions and last minute changes. Both interpreters and the technical team went the extra mile to overcome any challenges encountered."

-Cheri, Children International

"I was impressed with the responsiveness, thoroughness, and expertise of every interaction with Atlas, and found the cost to be quite reasonable. You earned our business with outstanding customer care and dedication."

-Melanie, Nanovic Institute
Services
Conference Interpreting

Domestic or international? Doesn't matter to us! Our team has the experience, knowledge, expertise and clientele to support you and your event, worldwide!

Equipment Rental

With one of the largest equipment inventories dedicated to conference interpretation, you can be assured that we have what you need, when you need it.

Legal Interpeting

Our legal interpreters average 10+ years of experience and maintain various professional certifications from both state and federal entities.

Translation

We offer unparalleled expertise in written translation from summary and certified translations to localization of novels, scripts and marketing material. Our process ensures only the highest level of accuracy to meet you every need.

Remote Simultaneous Interpretation

Remote Simultaneous Interpretation (RSI) is a new take on running multilingual events anywhere in the world by streaming the interpretation to the attendees via their mobile device.
Who we are
Atlas Language Services, Inc. is a dedicated language service provider (LSP) based in the United States. From Chicago translation companies to international translation services, Atlas LS is the most trusted company for your translation needs.
Founded in 2000, Atlas Language Services started with a management team who helped pioneer language interpreter certification during the early and mid-1990's.
Assisting the Judicial Council as well as the California Court Interpreters Association (CCIA) in setting standards and state regulations in what defines legal proceedings and requirements was pivotal to establishing high standards and requirements for our language teams.
Our management team brings well over 40 years of experience with us. In addition, we have been involved in some of the highest-profile translation cases. As well as the translation of millions of words.
A few reasons to choose Atlas Language Services:
Each project is assigned a dedicated Project Manager.

Each translation is assigned a translation team to ensure that the project is not only translated correctly but is proofed and edited.

Extremely high level of standards. Our linguists ensure that the context of your project is applicable to your target market.

Our translators are highly qualified, certified and/or accredited.

We offer a range of translation formats to fit all your needs.

We won't jeopardize our standards at any cost!